Notice: Explore Nearby Ski Areas with NOASC's Free Resort Transfers!
Dear snow sports enthusiasts,
We are thrilled to inform you that for the upcoming 2023/2024 winter ski season, NOASC will be focusing on providing ski and snowboard lessons exclusively at non-Niseko United ski resorts. To enhance your winter adventure, we're offering complimentary resort transfers included in your lesson package. Take this opportunity to discover and enjoy the neighboring ski areas!
Thank you for choosing NOASC for your winter sports experience. Let's make this ski season unforgettable together!
Best regards,
The NOASC Team

Niseko Snowboard Lessons (1)
NOASC Niseko runs our famous lessons from early December until late April. Our most popular lessons are our private snowboard lessons. Private, semi-private, and kids lessons available. Book early to save disappointment. Contact NOASC for further information on +81.136.23.1688
We offer lessons tailored to your ability. See below to find the lesson right for you.
If you wish to add friends, of the same ability, to your private lesson, the price per person gets cheaper as you add. Another great deal helping you and your friends to enjoy your next Hokkaido, Niseko Ski & Snowboarding Holiday.
Contact NOASC staff to discuss your options.
Browse our lesson levels below to find your skill level or view our simple guide to your snowboarding level When we receive your booking we will contact you about your appropriate lesson level.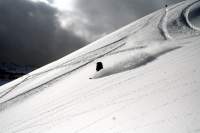 Private Snowboard Lessons (from 4 - 6 hours)
Private lessons from beginners through to advanced levels for individuals through to small groups (semi-private 1- 6 persons). Ideal for those who prefer closer personal approach. The lesson program is tailored to you - you determine what we are going to focus on and what is important to you. Our instructors will propose the best exercises, drills and terrain to ride, so you will get the most out of your lessons. Let's start your snowboarding progress with NOASC! Choose from 4 or 6 hour lessons. NOTE: Only private or semi-private lessons are available for children.