What Level Snowboarder Are You?
Often, one of the first questions you will be asked when booking a snowboard lesson is, "What level snowboarder are you?". A lot of people cannot tell you directly their level, but tend to describe the run/trails and/or the frequency they snowboard each season.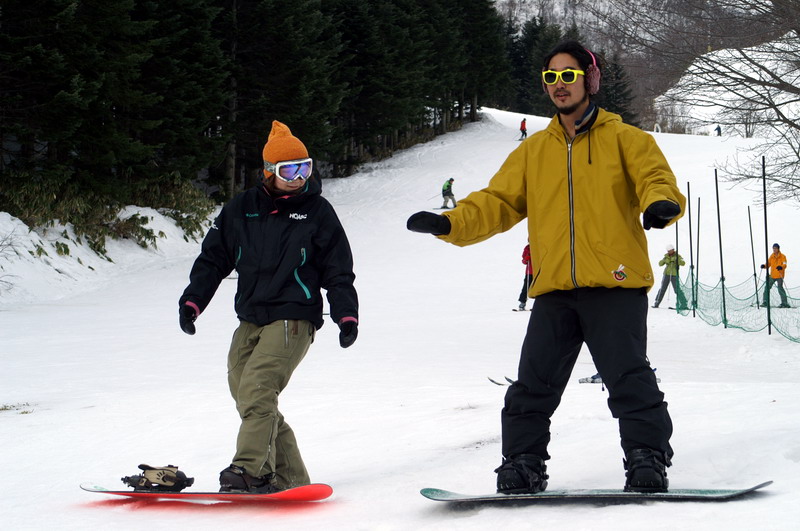 Around the world and as happens in Japan, most snowboard schools use a similar classification system for describing your snowboarding ability and grouping snowboarders into one of several categories normally referred to as beginner, intermediate, advanced, and expert. NOASC is no different. Although at NOASC, unlike most other snowboard schools, we continue to instruct and educate you off-piste; beyond the boundaries of the ski resort, into the backcountry.
The following guide will provide you information about how to evaluate your own snowboarding ability and help you to choose the right NOASC snowboard lesson.
Level 0 - You have never snowboarded before
Level 1 - You have snowboarded once before, fell-over lots, forgotten how to turn and stop.
Level 2 - You have snowboarded before and you can do basic single turns. Can side slip on both heel-side and toe-side edges with both feet in your bindings.
Level 3 - You can link large radius (sweeping) turns together and stop on gentle beginner slopes. You can ride the beginner lift.
Level 4 - You can confidently link turns together in both directions and control your speed on green and some red (coded as blue in US, Aus., N.Z.) runs/trails. Occasionally, head off-piste.
Level 5 - You can snowboard confidently on all green runs and most red runs. Starting to enjoy a little off-piste snowboarding in a variety of snow conditions. Not confident on bumpy run/trails.
Level 6 - You can perform linked turns on all red runs (incl. similar off-piste runs) of varying sizes, with good speed control. Sometimes, black runs under good conditions. You are beginning to carve your turns. Enjoying off-piste powder and open tree runs.
Level 7 - You are confident making various types of turns, on and off-piste (in the open trees) on all red runs, and most black runs. You are seeking more challenging terrain inside and outside of the ski resort boundaries. Your carving your turns on all red run/trails and confident on bump runs.
Level 8 - You can carve, link dynamic turns, on all terrain, in all snow conditions. Riding the trees is not a problem. Regularly snowboarding outside the ski resort on half-day backcountry lessons.
Level 9 - You can make strong, linked and dynamic turns, on and off-piste in a variety of conditions, in and outside the resort boundaries and in the backcountry.
Level 10 - You snowboard all terrain, in all conditions, confidently. You regularly snowboard in the backcountry. You wish to explore multi-day touring.
For a more detailed explanation of our snowboarding levels, please click here. NOTE: Access to the backcountry from the ski resort is through gates.