Shimukappu Tomamu Abseiling (1)
Shimukappu (Tomamu) Abseiling
NOASC runs outdoor abseiling (also referred to as Rappelling in some countries) adventure tours in both Niseko and Shimukappu (Tomamu /Furano). Our Shimukappu Abseiling locations include natural rock formations. Descend at your own pace.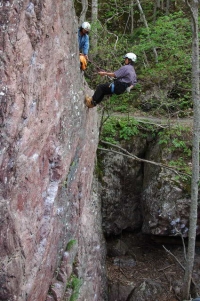 Shimukappu Abseiling (Rappelling)
NOASC runs several Abseils (Rapells) from various locations around Shimukappu/Tomamu/Furano towns. Our most popular location is the famous "Red Rock" area with Shimukappu township on the side of the Mukawa river. This area, famous for its bright red natural rock formations, and renown rock climbing provides a picturesque background for this adventure activity.
Additional Info
Price

Adult 6,300yen Child 4,410yen

Meeting Time

Am: 9:00am Pm:13:30

Duration

3 hours

Min. Age

6 years and above

Min. Persons

2

Season

Mid-July to late August