Enjoy Niseko Ski & Snowboard Lessons this winter
NOASC Niseko runs our famous lessons from early December until late April. Our most popular lessons are our private ski and snowboard lessons. Group, Kids, semi-private, powder lessons, technique lessons available. Remember our FREE VIP pick and drop off service means you don't need to walk or wait for shuttle buses. More time on the mountain means more improvement for you!
Our group lessons start at 8,500yen per half-day (2hrs) and 14,000yen per full-day for a minimum of 2 persons. Our group lessons offer great value and are popular so be sure to book early! Private lessons start a 18,500yen half-day and 36,000yen for a full-day for the first person. We offer lessons tailored to your ability. See below to find the lesson right for you. TAKE Advantage of our earlybird discount!
If you wish to add friends, of the same ability, to your private lesson, the price per person gets cheaper up to 6 extra persons. Another great deal helping you and your friends to enjoy your next Niseko Ski & Snowboarding Holiday.
If you are looking to combine your lessons with our latest ski hire deals, please view our NOASC Rental section, under the "other" top menu. Reserve your skis and add-on your lesson, etc., to save. NOTE: We apoligize if your desired rental item is not available. Contact NOASC staff to discuss your options.
Browse our lesson levels below to find your skill level or view our simple guide to your skiing level When we receive your booking we will contact you about your appropriate lesson level.
NOASC Adventure Tours ニセコラフティイング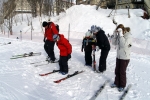 First Timer Ski Lesson
This lesson is a basic introduction (1hr) skiing and how to move around on your skis' and how to stop. Level zero skiers have never skied before. Includes 1 day ski rental. Let's start our skiing journey!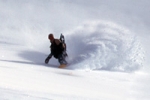 Niseko First Step Backcountry Tour
An ideal tour for the first timer backcountry skier/snowboarder. When coming to Niseko for the first time, one is always amazed about the amount of snow. This is your chance to learn about why Niseko is fast becoming on of the most popular powder skiing/snowboarding destinations in the world today.
Our experienced guides will show you the way, and what all the hipe is all about! They will introduce you to the necessary equipment and it's correct use, on the tour.