NOASC Adventure Tours ニセコラフティイング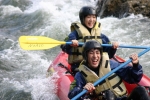 Niseko Full-Day Ducky (Inflatable Kayak) Tour
Your next step in river running after a NOASC Rafting tour. Our trained professional staff, we will show you the necessary techniques, etc., needed to run rivers, and support you on our down river Ducky tour. Try duckying by yourself. Alternatively, team up with your partner or best friend and as a team conquer the river rapids on your way down stream. this tour includes lunch. Contact NOASC for further details!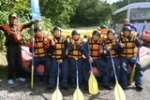 Niseko Semi- Private Rafting Tour
37,800 Yen (Reserved Raft).
Seat back and enjoy the spoils of a Niseko Semi-Private Rafting tour with you and your friends, or the whole family. This is a reserved raft on our am or pm rafting tour.
If you are looking for some extra special service, the privacy of your own private raft on the river, and/or the support/guding skills of one of our senior guides/Instructors, this is the tour for you!