お知らせ: NOASCの無料リゾート送迎で近隣のスキーエリアをご体験ください!
雪山スポーツ愛好者の皆様へ、
2023/2024シーズンに向けて、NOASCはニセコユナイテッドスキーリゾート以外のスキーリゾートでのスキーとスノーボードのレッスンに専念することをお知らせいたします。冬の冒険をさらに充実させるため、レッスンパッケージに含まれる無料のリゾート送迎をご提供いたします。この機会に近隣のスキーエリアを発見し、楽しんでください!
冬のスポーツ体験にNOASCを選んでいただき、ありがとうございます。一緒にこのスキーシーズンを忘れられないものにしましょう!
敬具、 NOASCチーム

ニセコスノーボードレッスン (1)
NOASC Niseko runs our famous lessons from early December until late April. Our most popular lessons are our private snowboard lessons. Private, semi-private, and kids lessons available. Book early to save disappointment. Contact NOASC for further information on +81.136.23.1688
We offer lessons tailored to your ability. See below to find the lesson right for you.
If you wish to add friends, of the same ability, to your private lesson, the price per person gets cheaper as you add. Another great deal helping you and your friends to enjoy your next Hokkaido, Niseko Ski & Snowboarding Holiday.
Contact NOASC staff to discuss your options.
Browse our lesson levels below to find your skill level or view our simple guide to your snowboarding level When we receive your booking we will contact you about your appropriate lesson level.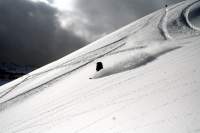 Private Snowboard Lessons (from 4 - 6 hours)
Private lessons from beginners through to advanced levels for individuals through to small groups (semi-private 1- 6 persons). Ideal for those who prefer closer personal approach. The lesson program is tailored to you - you determine what we are going to focus on and what is important to you. Our instructors will propose the best exercises, drills and terrain to ride, so you will get the most out of your lessons. Let's start your snowboarding progress with NOASC! Choose from 4 or 6 hour lessons. NOTE: Only private or semi-private lessons are available for children.
追加情報
料金

From 56,000yen (4hrs) - 76,000 yen (6hrs)+,

所要時間

8:30 - 16:30 (choose your time)

集合時間

15mins before lesson time

対象年齢

4 years plus

最少催行人数

1 persons (extra persons of equal level allowed)

シーズン

December through to April

あなたのレベル

Click here to find your level.

お持ち物

Click here to view.