ニセコバックカントリーツアー情報 (1)
NOASC operates Backcountry / Powder Safari tours around Hokkaido during winter. Our Niseko tours include our famous backcountry ski/snowboarding/telemarking tours from early December until late April. Our most popular tours are our Lift Access Backcountry and powder tours. Contact us for further information.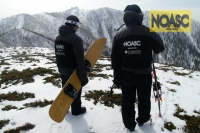 Take a Backcountry Tour with the professionals!
Our staff are professional guides, guiding our clients on tours all year round, across the Island of Hokkaido, and overseas. NOASC staff include instructors, assessors, course facilitators, in various summer and winter outdoor adventure sports, within Japan, and overseas. Customer service, safety and your satisfaction is our priority!
追加情報
プロ

Our guides are professional trained and qualified staff.

多言語:

Our local guides are multi-lingual speaking Japanese, English, and other.

フレンドリー:

Our staff will look after you from the time you are picked up, until you are returned to your accommodation.

豊富な知識:

We have been operating tours since 1993 and know the area like the back of our hand.

経験があり:

Our guides guide tours year round, Hokkaido wide, small to large groups.