Notice: Explore Nearby Ski Areas with NOASC's Free Resort Transfers!
Dear snow sports enthusiasts,
We are thrilled to inform you that for the upcoming 2023/2024 winter ski season, NOASC will be focusing on providing ski and snowboard lessons exclusively at non-Niseko United ski resorts. To enhance your winter adventure, we're offering complimentary resort transfers included in your lesson package. Take this opportunity to discover and enjoy the neighboring ski areas!
Thank you for choosing NOASC for your winter sports experience. Let's make this ski season unforgettable together!
Best regards,
The NOASC Team
Displaying items by tag: Lodge Accommodation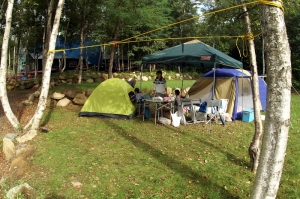 NOASC Rafting + Camping Package
Experience Niseko's outdoors while camping at NOASC's adventure base camp ground. NOASC camp area is private camp area, for use by NOASC members only.
To become a member one must also book and participate on one of our half-day adventure activities. Clean modern toilet facilities. Apart from our half-day activities, campers can enjoy activities such as cycling, nature walks, night spot light tour, and cross country mountain biking, etc.
At night enjoy toasted mushmellows, while sitting around the camp fire. Rental camping equipment available also.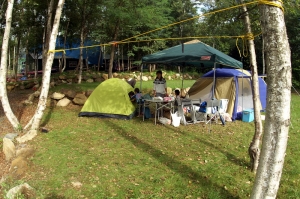 Mountain Biking Tour + Camp + MTB Rental Package
Escape the hustle and bustle of city life and embark on an unforgettable adventure with our 1-night camp, mountain bike hire, and guided tour package! Discover the beauty of nature and the thrill of mountain biking in the most picturesque settings.
- Camp under the Stars: Experience the serenity of the Niseko great outdoors as you spend a night in our comfortable campsite. Whether you're a seasoned camper or a first-timer, our expert guides/staff will ensure you have a cozy and safe night under the stars.
- Mountain Bike Excitement: Get your adrenaline pumping with our high-quality mountain bike and E-Mtb rentals. Explore scenic trails, tackle challenging terrain, and feel the wind in your hair as you navigate through lush forests and breathtaking landscapes of Twin Peaks Bike Park.
- Guided Tour: Our knowledgeable guides will lead you on a thrilling mountain biking adventure of Twin Peaks Bike Park or take you on a explorer ride of a selection of forest trails around the Niseko area. They'll take you through the best trails, point out local wildlife, and share fascinating insights about the area's history and culture.
Book your 1-night camp plus mountain bike hire and guided tour now and make memories that will last a lifetime! Whether you're an avid mountain biker or just looking for a refreshing getaway, this package is perfect for you.
Don't miss out on this incredible opportunity to connect with nature and have the adventure of a lifetime. Contact us today to reserve your spot! NOASC Adventure Tours Tel: 0136-23-1688