次のタグのアイテムを表示しています: Mountian BIke Camp Package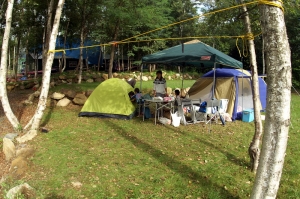 Mountain Biking Tour + Camp + MTB Rental Package
Escape the hustle and bustle of city life and embark on an unforgettable adventure with our 1-night camp, mountain bike hire, and guided tour package! Discover the beauty of nature and the thrill of mountain biking in the most picturesque settings.
- Camp under the Stars: Experience the serenity of the Niseko great outdoors as you spend a night in our comfortable campsite. Whether you're a seasoned camper or a first-timer, our expert guides/staff will ensure you have a cozy and safe night under the stars.
- Mountain Bike Excitement: Get your adrenaline pumping with our high-quality mountain bike and E-Mtb rentals. Explore scenic trails, tackle challenging terrain, and feel the wind in your hair as you navigate through lush forests and breathtaking landscapes of Twin Peaks Bike Park.
- Guided Tour: Our knowledgeable guides will lead you on a thrilling mountain biking adventure of Twin Peaks Bike Park or take you on a explorer ride of a selection of forest trails around the Niseko area. They'll take you through the best trails, point out local wildlife, and share fascinating insights about the area's history and culture.
Book your 1-night camp plus mountain bike hire and guided tour now and make memories that will last a lifetime! Whether you're an avid mountain biker or just looking for a refreshing getaway, this package is perfect for you.
Don't miss out on this incredible opportunity to connect with nature and have the adventure of a lifetime. Contact us today to reserve your spot! NOASC Adventure Tours Tel: 0136-23-1688
追加情報
料金

Adult 14,000yen

集合時間

Tour AM: 9:30am Tour PM:13:30

所要時間

Tour approx 3.5 hours + 1 night stay

対象年齢

13yrs

最少催行人数

4 persons

シーズン

May to October