NOASC Adventure Tours ニセコラフティイング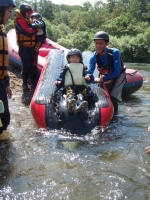 Niseko Kids Rafting
Adults 4,900yen Child 3,800yen
As the water levels drop around Niseko with the disappearing snow melt, we move up river to our Summer rafting course. With the warming conditions NOASC begins its summer family fun with the start of our popular Kid's Rafting tours in July. Not just fun for the kids, but also Mum and Dad. Your guide will have your family discovering the river ecosystem in a unique way through hands on adventure.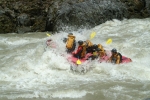 Mukawa River 1 Day Rafting Tour
NOASC Shimukappu runs commerical white water rafting tours from May through to October on the Mukawa river. The Mukawa river offers Hokkaido's most exciting white water rafting tour with lots of challenges, excitment, and adrenaline rushes as you paddle your way down river. Our 1 day includes lunch and "hot spring bath" onsen at the end of the tour.