NOASC is Hokkaido Japan's leading Adventure company running adventure activities throughout Hokkaido

NOASC is Hokkaido Japan's leading Adventure company running adventure activities throughout Hokkaido
NOASC Adventure Tours ニセコラフティイング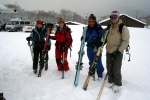 Niseko Lift Access Backcountry Tour
From the top lift station of the resort head out into the Niseko Backcountry. Sometimes, you will need a moderate hike up to access that great terrain. After a short break, take in the brillant view and then experience some wide open turns back down into the valley. Optional courses can include Chizenupuri or Moiwa Ski resorts, and hiking up adjacent Mt Nitonupuri, or Mt. Iwaonupuri, or just spend your day ski /snowboarding off the main mountain of Mt. Niseko Annupuri.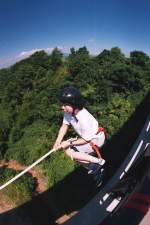 Niseko Bridge Swinging
If you like heights and are looking for an adrenaline rush this adventure activity is for you. definitely not for the faint hearted. Free fall into your biggest swing of your life.
Once your into your harness and connected to the rope, you then loose sense of reality, and all common sense by climbing to the outside of the bridge rail. After a couple of deep breaths and a very short count down, you're free falling.
Our Niseko Bridgeswing is OPEN!
Additional Info
Price

7,600yen

Meeting Time

Am 9:30, Pm 13:30

Duration

2-3 hours

Min. Age

13 yrs and above

Min. Persons

3

Season

Summer (April to October)

Book NOW!

Click here to book this activity!